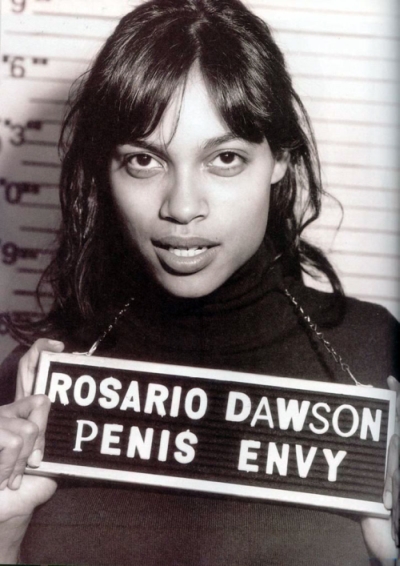 From Wikpedia:
Dawson was born in New York City. Her mother, Isabel Celeste, is a writer and singer of Puerto Rican and Afro-Cuban descent. She was seventeen years old when Rosario was born, and never married Rosario's biological father, Patrick Harris.[1][2] When Isabel was eighteen, she married Greg Dawson, a construction worker, who "loved and raised Rosario as his own daughter"[1] (Dawson has stated that "He's always been my dad").[2] Rosario Dawson has one younger brother, Clay (b. 1983).
At the age of 21, Dawson's mother broke into an abandoned building on the Lower East Side of Manhattan, where she and her husband installed plumbing and electrical wiring, to turn the building into a squat where their two children would grow up. Dawson has cited this when explaining how she learned "If you wanted something better, you had to do it yourself."[3][4] Her parents divorced while she was in elementary school.[3]
Other Sources:
The problems with the bloodline references include the fact that Rosario is not Native American and Irish. Rosario has never met her biological father. The man she continues to refer to as her father is Greg Dawson, a local small time criminal in the lower east side of Manhattan whom her mother Isabel had married. Greg is of Irish and possibly Cherokee descent. Rosario and her mother Isabel have perpetuated this lie as a marketing scheme for many years.
Rosario was raised in a Manhattan tenement building by her Bronx-born mother, a professional vocalist, and her father, who worked in construction. Dawson attended an alternative school in downtown Manhattan, where she aspired to one day become a marine biologist. Although Rosario's parents separated when she was still young, they continued to live in the same building, allowing Rosario and her brother to remain close to both parents.
Dawson grew up around people with HIV/AIDS, and she knew its alienating effects. But when it touched her beloved "Uncle Frank," an artist friend of her mother's, it really hit home. "I would share my food with Frank," Dawson recalls, "and he would just cry, 'My family and friends never do that with me, because they're afraid of being contaminated.' I was just 7 years old, and I knew I couldn't get AIDS that way."